Driverless Tractors Are Getting Ready for Harvest Season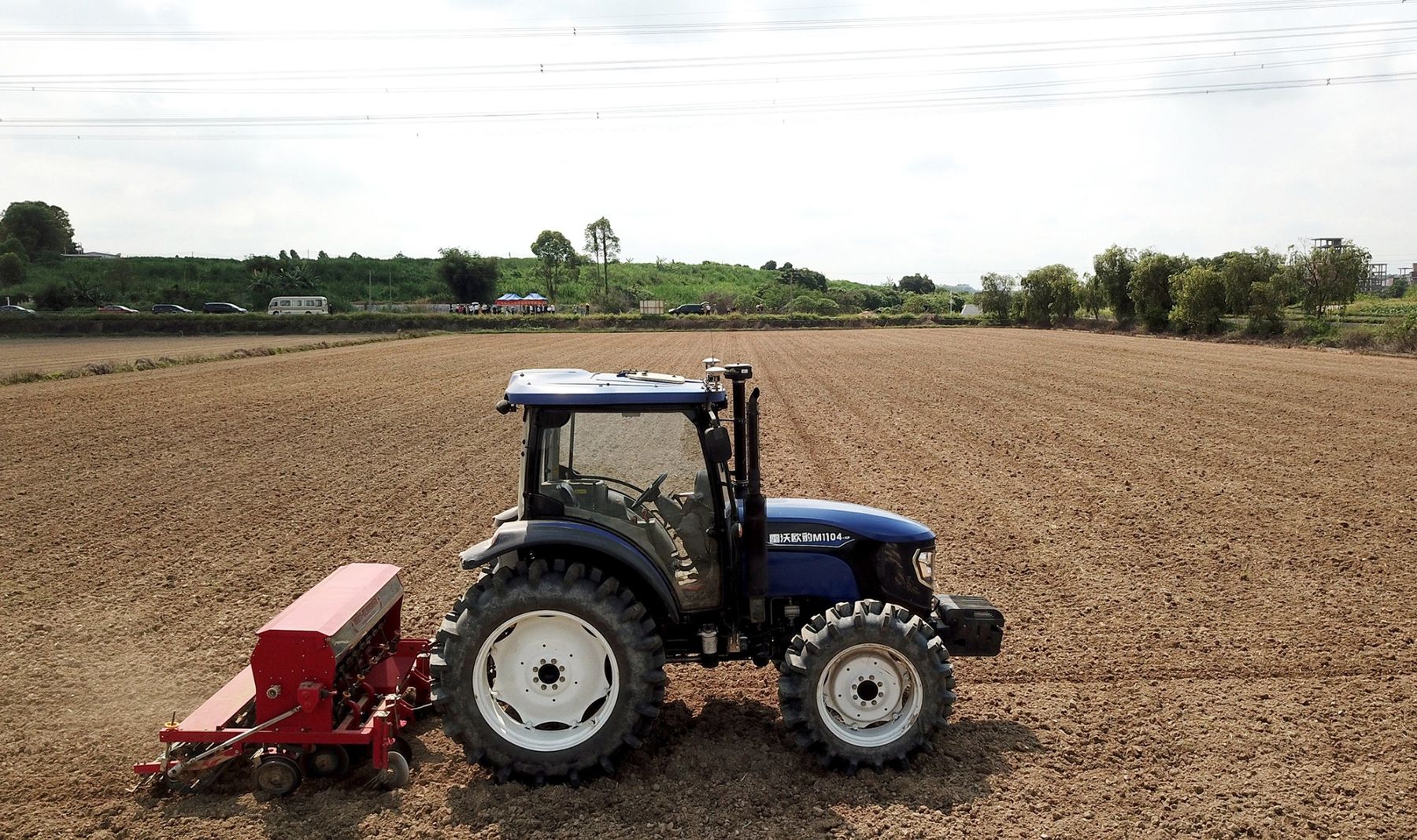 Automated farming equipment looks a lot more appealing during the pandemic. The U.K. is on it.
Cereals, a giant trade fair for British crop farmers, is a bit of a social occasion for people whose line of work often leaves them isolated. At last year's event—a mass of tents, booths, and refreshment stands in fields in the English county of Lincolnshire—many visitors wore neat tweed or wax jackets above their waterproof wellington boots, and some accessorized with neckties and flat caps. LG Seeds showed off varieties of winter barley not far from the enormous machines sold by New Holland and Horsch. In one of the fields, a more modest model, a small blue tractor manufactured by the Japanese company Iseki & Co. drove a figure eight in the wet grass of a fenced-in enclosure without anyone sitting in its seat.
As the Iseki tractor traced its path between spaced-out bales of straw, an orange inflatable tube with a white faux head and arms periodically unfurled near the point where the figure-eight tracks crossed. It was a scarecrow called the Scarey Man, manufactured by the British company Clarratts Ltd., which in this case played the role of a hypothetical pedestrian who might wander into the tractor's path. Each time the Scarey Man ballooned up in its way, the Iseki ground to a halt several feet back. A lidar scanner, a sensor that measures distances using laser light, detected the obstacle, and the tractor's software ordered it to stop.
"You can see that the tractor is driving in a lot more controlled manner than maybe our first-generation machine," said Kit Franklin, who was pacing the arena and narrating the tractor's moves via microphone. "We've got really nice straight runs in the middle and nice, uniform corners."
Franklin, 30, is a lecturer in agricultural engineering at Harper Adams University, a farming-focused school in the county of Shropshire. He also runs the Hands Free Farm initiative, a team that aims to ramp up agricultural automation and suddenly looks especially prescient. In 2016, working on a skeleton budget of £199,000 (about $246,000), Franklin and three colleagues set a goal of farming a single hectare (about 2½ acres) fenced off near a rugby pitch on the Harper Adams campus without any direct human assistance. The initial money came from Innovate UK, a British government research fund, and Precision Decisions, a company acquired in 2018 by agricultural researcher Map of Ag.
The team acquired machinery that it retrofitted with off-the-shelf drone electronics and actuators, including a small Iseki tractor and a quarter-century-old Sampo Rosenlew combine. The small machinery reflected Franklin's limited financing, but also a broader philosophy. In many parts of the world, the limiting factor in agriculture has been the cost of labor, hence a trend for ever-larger machines that can cover more ground in less time. However, larger machines tend to compact the soil, reducing crop yields. Franklin's team is trying to facilitate the proliferation of smaller, lighter farm equipment that can cover the same ground as the behemoth models while preserving soil quality.
Source: https://www.bloomberg.com/news/articles/2020-06-02/driverless-tractors-are-coming-soon-to-u-k-farms